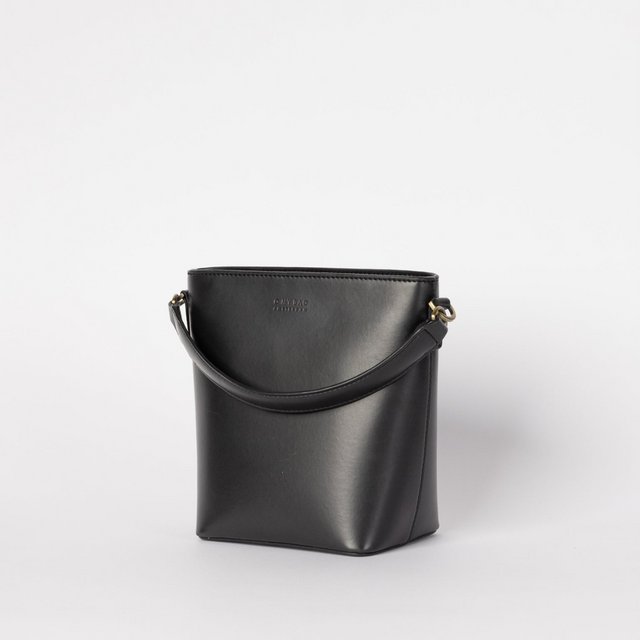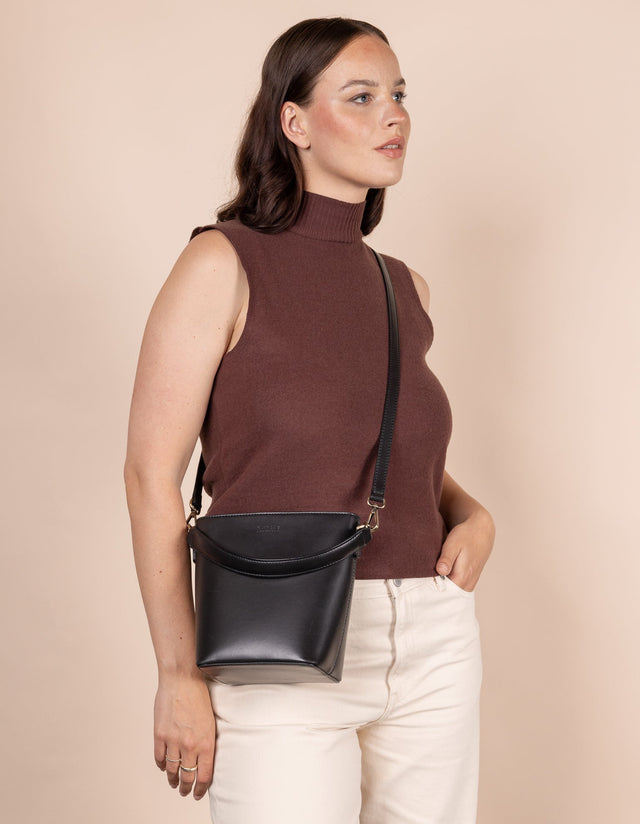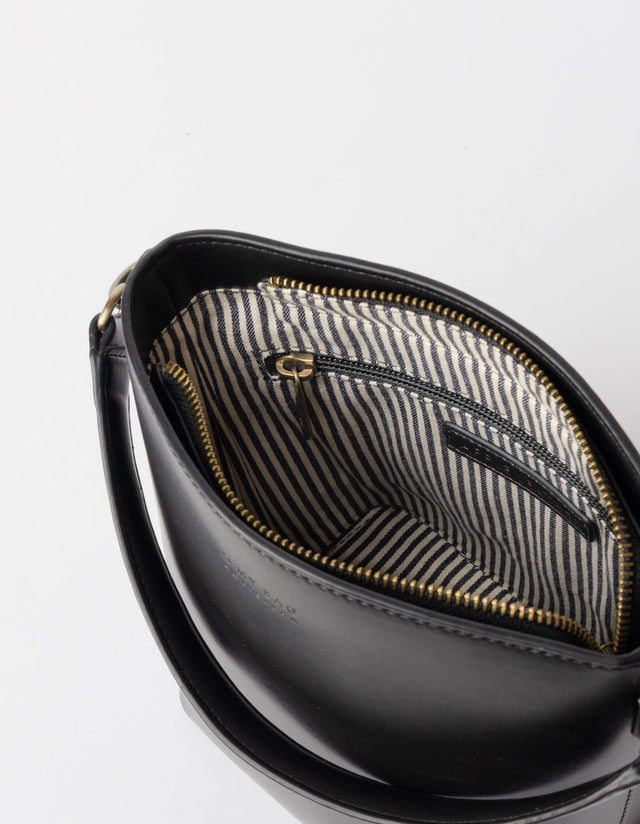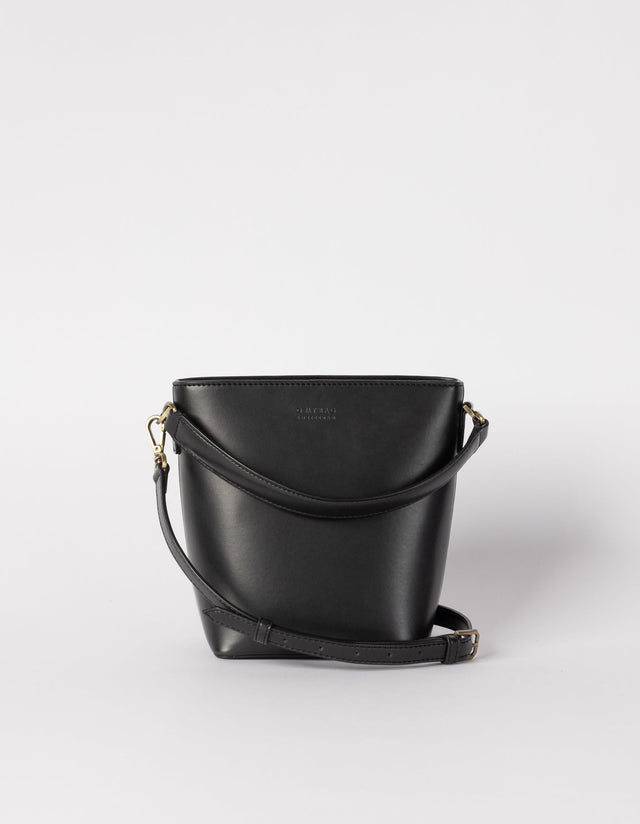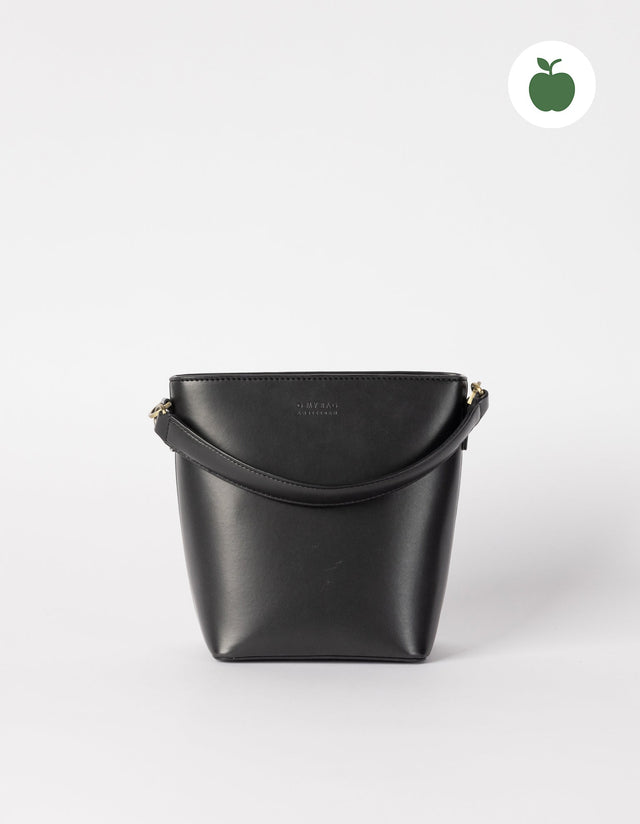 by OMyBag
OMy bag | Vegan Bobbi Bucket Bag | Midi Black
Introducing the Bobbi Bucket Bag Midi in Apple Leather! This vegan alternative looks, feels and behaves like traditional leather with the same durability - gorgeous, right? 
This classy bucket bag has a roomy interior and a slip-in pocket to grab your small essentials in a sec. Designed with a flat bottom, Bobbi stands on her own, making a true statement. Carry her with the top handle or wear her as a cross body bag. 
Bobbi enjoys a night out or a trip to the beach, she's our go-to girl for every occasion.
1 Large inside compartment
Adjustable/ removable shoulder strap
Antique brass hardware
O My Bag's signature striped cotton lining
| | |
| --- | --- |
| Weight | 500 g |
| Dimensions | 22 x 12 x 20 cm |
OMyBag Production & Care Info
Bobbi Bucket Midi is produced in our Springfield factory, an environmentally conscious factory. They share our values and produce in a fair way, just as at all our partnering factories, women are entitled to equal pay and maternity leave. To learn more about our factories, check our factory profiles page.
Bobbi Bucket Midi comes in our Apple Leather, is a vegan leather alternative made from AppleSkin™. This is a bio-based material, and is created from the waste of fruit juice and applesauce industry. The Apple waste is ground into a fine powder, and that powder is mixed with non-toxic and organic pigment. Apple leather consists of up to 40% residual apple waste from skins, stems, and fibres of the fruit, that is backed by a mix of synthetic materials, required for strength and durability. For more information, check our Apple Leather blog.

AppleSkin™ has a high-quality look and feel, it becomes slightly darker with use over a long period of time and slight scratching may occur. We help our customers to take good care of their purchase. With a little love and care your bag will last for years. We celebrate used products and encourage you to repair whenever possible. The webbing strap can be cleaned using soap and water, do not machine wash. For more information, check our care and repair page.
Size Guide
View our full size guide here
Shipping & Returns
Standard domestic - €6
UK orders - €10
European orders - €10
US & Canada orders - €20